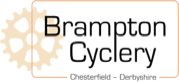 Framework, Accessories
& Fittings
New Fork Fitting
(inc. new
hydraulic)
Out of the box fork replacement. Remove brakes and headset from old forks (or fit new). Includes setup of components and fittings - lights, rack, mudguards, trip computer parts etc.
Resetting rear triangle to accommodate different axle size inc dropout alignment.
On steel frames hanger realigned. If an aloy hanger is bent it may be either reset (if only slightly bent) or replaced. Reset aluminium hangers often have very short lifespans!
We can fit a rear hanger guard to protect the rear gears. Useful on childrens bikes which are regularly dropped!
Headset, bottom bracket, or disk break mount. Assumes bare frame.
Remove all levers and fittings from handlebars and transfer to new. Drop bar re-tape/refit grips.
Fit new tape to drop bars/Tandem stoker bars.
Small Frame Fittings (each)
Bottle cages, cycle compouter, lights, bar bag etc.
Rear or front rack fitting, fixed basket fitting.